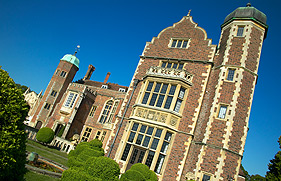 Institute of Continuing Education
Madingley Hall
Madingley
Cambridge
CB23 8AQ

Phone: +44 (0)1223 746222
Email: enquiry@madingleyhall.co.uk
Enquiry Form Privacy Information
We will use your name and email address to process your enquiry and to keep in touch with you regarding your potential event. If you decided not to go ahead then your information will be removed and the enquiry anonymised, unless you have opted to join the mailing list. If you make a booking with us your data will be used for all transactions relating to this booking. You will only be added to the mailing list if you have opted to do so here.
Located in the historic village of Madingley, just four miles west of Cambridge, Madingley Hall is easily accessible from the M11, A14 and A428, as well as Stansted, Heathrow, Luton and Gatwick airports.
GPS Tracking systems
Our post code has recently changed, from CB3 8AQ to CB23 8AQ, which has caused problems with some GPS Tracking systems. If you are using GPS, please ensure that your final destination is Madingley.